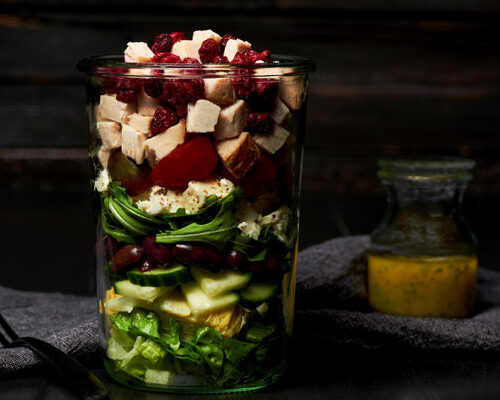 Mediterranean Turkey Salad with Lemon Oregano Dressing
Prep Time:
5 minutes

Cook Time:
20 minutes

Total Time:
25 minutes

Yield:
2 to 4 servings

Category:
Salad

½ cup Romaine
½ cup Arugula
Two tablespoons Kalamata Olives, halved
Two tablespoons Marinated Feta Cheese, crumbled
Two tablespoons cucumber, halved and sliced
¼ cup Tomato halved
Two tablespoons artichoke, quartered
Lemon Oregano Dressing, recipe below, or store-bought
Dakota44 Snack Bites (3 oz meat)
Combine all ingredients together and toss with dressing. Serve immediately.
Lemon Oregano Dressing (makes about 1 cup)
¼ cup Lemon Juice
½ cup Olive Oil
Two teaspoons Honey
One teaspoon Dijon Mustard
One tablespoon Fresh Oregano, minced
½ teaspoon Salt
½ teaspoon Pepper
Combine lemon juice, honey, dijon, oregano, garlic, salt, and pepper. Slowly whisk in the olive oil until the dressing thickens and emulsifies.