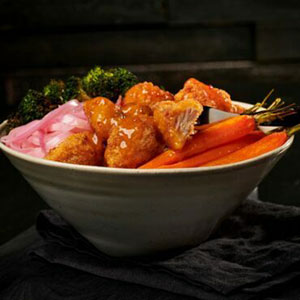 Spicy Turkey Fritters
Crunch yours with our fantastic turkey fritters. Get your crunch on every day, and all day served hot or cold. Our fritters can be prepared within just moments in your deep fryer, oven, or air fryer.
Ground Turkey Chorizo Sausage
You may need your passport for these items. Be prepared to take a little trip around the world with our new bold and ethnic fused flavors perfect for any meal and ready within moments. Our fully cooked ground turkey hit all the essential marks for today.
Barnyard Bacon & Egg Breakfast Pizza
Whoever said pizza isn't considered a breakfast food has obviously never tried our breakfast pizzas. With every eggy, meaty, cheese-filled bite, you'll become mesmerized and almost forget about the rest of your day.
Our Story
The story began with 44 turkey growers located in South Dakota and Minnesota. The 44 farmers allied to benefit their farms, families, and lifestyles for generations to come. The farmers devoted much of their time to the collaboration on achieving their goals while balancing their beliefs. As a result, in 2005, Dakota Provisions was formed and today is their vertically integrated processing company. The mission of Dakota Provisions is to stay devoted to the heritage and survival of local family farmers. As Dakota Provisions grew, so did our desire to reach more lives to support the good that comes from our mission. In 2012 Dakota Provisions™ opened their first retail store, "Wyshbone Market™. The Wyshbone Market™ has a dual purpose: first, to share locally made items within our community at discounted prices, and second, to reduce food miles. Reducing the food miles is achieved by offering products in bulk to reduce the number of trips needed to the market. Our market, located in Huron, South Dakota, did so well that we opened our second location in Brookings, South Dakota, shortly after. 
Now in 2021, we are ecstatic to extend "the" country supper experience from our farmers to your families via our new online store. At Wyshbone Market™, you are sure to experience the taste of country excellence delivered in an environmentally conscious modern fashion. 
Come shop with us and feel great about your purchase.
Wyshbone appreciated
 Nature Approved™
Farmer Crafted™ Delights
You'll need to try for yourself.