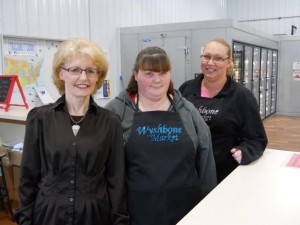 "Wyshbone Market" ~ Dakota Provisions Employee Store that is also open to the public.
Huron Store hours are Monday-Friday 9:00 AM – 6:00 PM and Saturday 9:00 AM – 1:00 PM. Brookings store hours are Monday-Friday 10:00 AM – 6:00 PM and
  Saturday 10:00 AM – 3:00 PM. Dianne Coolbaugh is the store manager and we have two very loyal employees, Jessica and Alicia. 
Wyshbone Market has served the employees of Dakota Provisions and the public since April, 2012.  Fresh, sliced turkey, chicken, ham and beef as well as many frozen items fill the two huge coolers and freezers.
Some of the fresh specialty item include:
 Turkey Ham…Turkey Salami…Turkey Bologna…Oven Roasted Turkey Breast…Black Pepper Turkey…Herb Roasted Turkey…Fried Turkey Breast…Oven Roasted Chicken…Fried and Deep Fried Chicken…Deli Style Ham…Black Forest Ham…Cooked Ham…Turkey Bacon…Roast Beef Slices.
Frozen Specialty items include:
Turkey wings…Tenders…Fries…Necks…Thighs…Breast meat…Tenderloins…Drumsticks…Ground Turkey…Turkey and Ham dices….plus other miscellaneous frozen items.
The store also features many Dakota Provisions labeled clothing items.  You will find colorful shirts, sweatshirts, t-shirts, vests, stocking hats, and Baseball caps.
All major credit/debit cards are accepted however we do not accept checks.  Employees who work at Dakota provisions or one of our other braches receive a 10% discount and have the option of payroll deduction with employee ID.
News of Wyshbone Market has spread to many parts of the state, as well as all over the United States and into Canada and as far south as Texas.  Customers from all over have been bringing their coolers to purchase our meat products and share with family and friends. 
You will also find us on Facebook so be sure to check us out and like us while you are there.
If you come to the store on Friday, we are usually cooking up a sample of one of our products from the store.  We are even working on a Wyshbone Cook Book for the future.