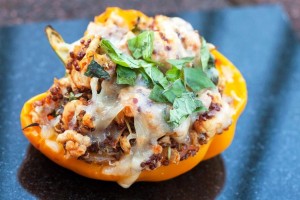 Turkey and Quinoa Stuffed Peppers
Yield: 8 stuffed pepper halves
Ingredients:
1/2 cup uncooked quinoa (I used red)
1 cup water + pinch of salt
1 tbsp olive oil
2 small yellow onions, chopped
2-3 garlic cloves, minced
20 oz. extra lean ground turkey
2 tsp Italian seasoning
salt & pepper
8 oz. can tomato sauce
2 oz. baby spinach
4 bell pepper, halved with seeds and membranes removed
fresh basil, chopped, torn, or sliced
shredded mozzarella cheese (optional)
get ingredients
Directions:
Preheat oven to 350 degrees.
Rinse the quinoa in a fine mesh strainer until the water runs clear.
In a small saucepan, combine the quinoa and water with a pinch of salt. Bring to a boil, then cover and simmer for 15 minutes. Remove the lid and cook for 2-3 more minutes to evaporate any remaining water.
In a large saute pan, heat the oil over medium-high heat. Add in the onion and garlic and sauté for about 5 minutes until translucent. Add in the turkey and Italian seasoning, and cook until no longer pink. Stir in the tomato sauce and spinach.
In a large bowl, combine the quinoa and turkey mixture. Spoon into the 8 pepper halves. If you'd like, top the pepper with some mozzarella cheese.
Bake for 30 minutes until the peppers are tender. Sprinkle with the fresh basil prior to serving.