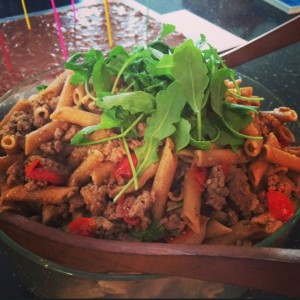 Mint Pesto Pasta with Ground Turkey and Arugula
Yield: this makes quite a lot of pasta, so halving it would be plenty for 4. 
Ingredients:
2 lbs. ground turkey
2 tbsp olive oil
Small white onion, chopped
2 cloves garlic, minced
2 boxes of whole wheat penne pasta (12 oz. each)
Pint of grape tomatoes, halved
Couple of handfuls of arugula (i.e. rocket)
Mint-pesto pasta (loose recipe above)
Red pepper flakes
Salt and pepper
Preparation:
Bring large sauté pan to medium heat and pour olive oil in. Drop chopped onion in and cook until nice and caramelized, about 10 minutes. Place turkey in pan and carefully break up into small pieces as you cook the meat. Stir frequently until cooked all the way through. Carefully placed lid on pan and drain any excess liquid from the turkey into the sink by making a tiny crack between the lid and pan. Place pan back on burner and add minced garlic, red pepper flakes, and salt and pepper to taste. Turn heat down to low and add grape tomatoes and arugula. Let cook just until tomatoes start to break down slightly and arugula begins to wilt.
Meanwhile, bring large pot of water to boil. Once boiling, add a good handful of salt. Then dump pasta in and cook according to box directions (usually 10 minutes or so for al dente). Stir frequently to ensure pasta doesn't stick to the bottom of the pot. Before draining, scoop out about a cup of the starchy cooking water and set aside. Drain pasta and then place back in pot on the burner. Turn heat down to low.
Add meat mixture and 1/2 cup of pesto to the pot of pasta. Add in about half of the starchy cooking liquid and stir over low heat so everything can meld together. Add more liquid and pesto, as needed, until the pasta is creamy looking and the noodles are well saturated.
Serve pasta in a big bowl with fresh arugula scattered over the top.
Mint-Pesto: Fresh mint, pecans, parmesan, a clove of garlic, salt and pepper, red pepper flakes, and extra virgin olive oil. Blend it all up until it's your preferred consistency.